WooCommerce Reporting and Analytics Plugins for 2022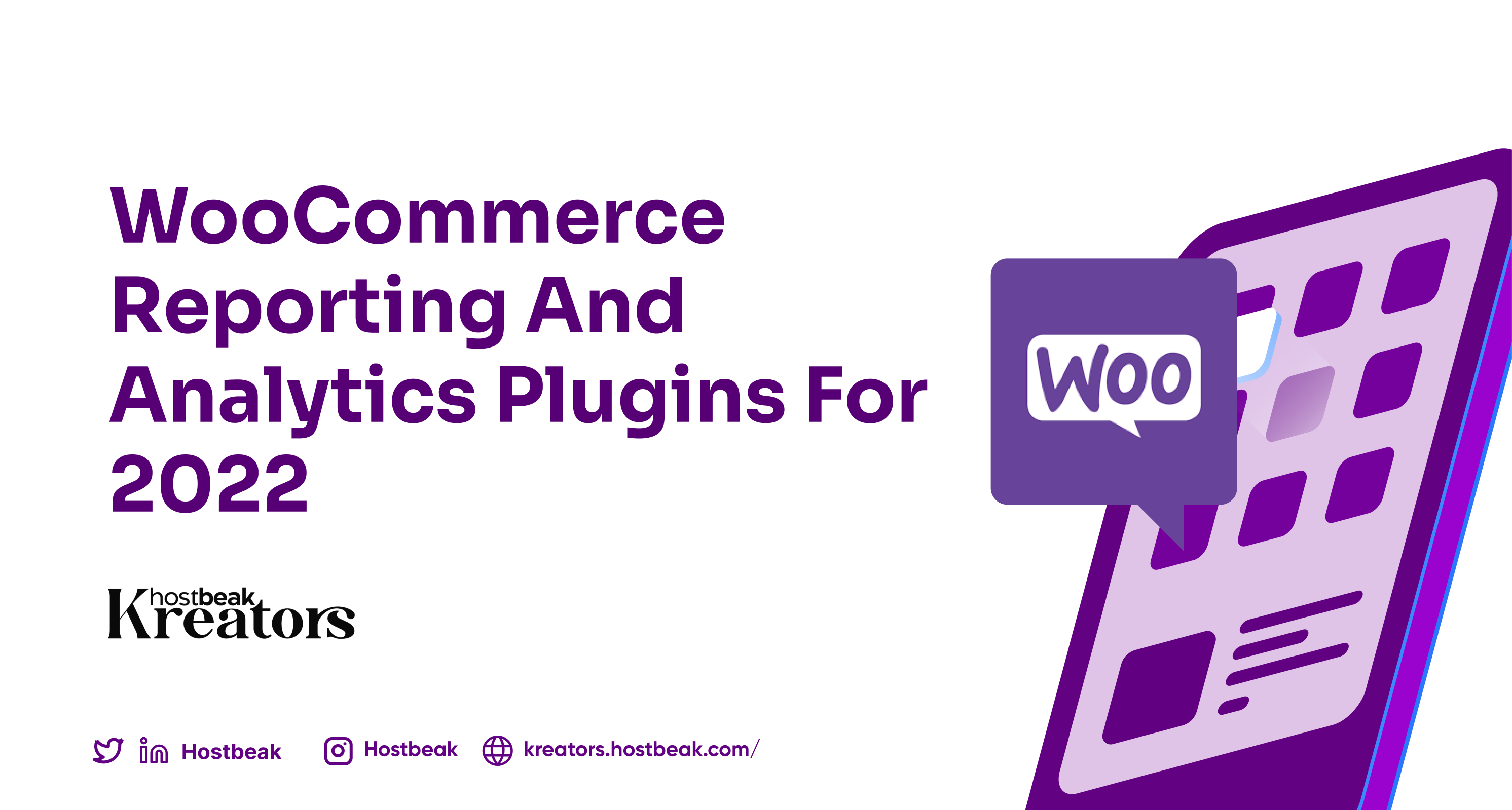 WooCommerce is the world's most popular eCommerce platform. It's a free eCommerce plugin for WordPress that makes it super easy to sell products and services online.
To get analytics on e-commerce website can be a very importance part of running a business. Here are some plugins that give you just that.
MonsterInsights is the best Google Analytics plugin for WordPress. It comes with an eCommerce addon that lets you track your WooCommerce conversions with ease.
The best part about using MonsterInsights is that it shows all the information you need to measure your WooCommerce store's performance inside your WordPress dashboard.
It makes it super easy to set up and use Google Analytics. Plus, you don't have to work your way through the complicated Google Analytics reports to find the data you need to make decisions.
The MonsterInsights eCommerce report lets you view your revenue, number of transactions, conversion rate, and average order value at a glance.
MonsterInsights also shows the most popular products on your WooCommerce store and helps you find out which products generate the most sales and revenue.
Using this information, you can offer similar products and services that your customer prefer and grow your eCommerce revenue.
The plugin also tracks your top conversion sources, so you can see which websites are sending you high-converting traffic. This helps you to invest more in marketing strategies that are already proven to work.
There are more shopper behavior reports you can view in your WordPress dashboard. For instance, MonsterInsights shows you the total items added to cart, removed from cart, time to purchase, and sessions to purchase a product.
Another advantage of using MonsterInsights is its Popular Products feature. You can display your top-selling products anywhere on your WooCommerce store using this feature.
MonsterInsights offers multiple themes to choose from and also provides different options to customize and display popular products on WooCommerce product pages.
Other than that, you also get advanced tracking features with MonsterInsights. For instance, it helps you set up custom dimension tracking, scroll tracking, link click tracking, outbound link tracking, and much more.
Pricing: To track your WooCommerce store in Google Analytics, you'll need the MonsterInsights Pro plan which will cost you $199.50 per year. There is also a free version, but it doesn't include enhanced eCommerce tracking report.
WP Mail SMTP is one of the best WooCommerce plugins for your store. It ensures that your emails reach the inbox of your customers, and offers tracking and reporting on all the emails your site sends out.
On a WooCommerce store, you'll need to send your customers receipts of their purchases, order details, user account details, order confirmation emails, and much more.
If your customers aren't getting these important emails, then it will result in a bad user experience and you'll lose potential customers.
With WP Mail SMTP, you can track whether your emails are being delivered or not. All you have to do is enable the email logs in WP Mail SMTP and the plugin will take care of the rest.
You can then view your email logs inside your WordPress dashboard and see the delivery statues, opens, and clicks for each email.
For more information, you can follow our step by step tutorial on how to setup WordPress email logs.
Pricing: WP Mail SMTP premium plans include the email logs feature with prices starting from $39 per year.
Product Sales Report for WooCommerce is a great reporting tool for finding out how many sales your eCommerce store is getting and then sharing the sales reports with other people.
The WordPress plugin is very easy to use and create by Aspen Grove Studios. You can change the reporting period and select which products to include in the sales report.
There are also different options for showing reporting fields in the report. For instance, you can choose to show product ID, SKU, name, quantity sold, gross sales, product category, and much more.
The best part about using Product Sales Report for WooCommerce is that you can generate and view the sales report inside your WordPress dashboard and download it as a CSV file to share it with others.
Pricing: You can use Product Sales Report for WooCommerce for free. However, you can also subscribe to its premium version for more reporting features with prices starting from $199 per year.
Google Analytics and Google Shopping plugin for WooCommerce, which was formerly known as Enhanced Ecommerce Google Analytics Plugin, is the next plugin on our list.
The plugin allows you to easily set up Enhanced Ecommerce tracking in Google Analytics with your WooCommerce store. Not only that, but you can also connect your Google Ads and Google Merchant accounts.
The downside of using Google Analytics and Google Shopping plugin for WooCommerce is that you don't get to see reports inside your WordPress dashboard, like you can with MonsterInsights.
However, you can unlock different Google Analytics eCommerce reports and view them in your Analytics. These include the shopping behavior report, checkout behavior report, product performance report, and sales performance report.
Pricing: Google Analytics and Google Shopping plugin for WooCommerce is available for free.
s

Sales Report By Country for WooCommerce is another popular WooCommerce reporting and analytics tool. The plugin is designed specifically to track sales from different regions on your online store.
It is very easy to use and doesn't require any setup. All you have to do is install the plugin and then view the sales report by country in your WooCommerce reports section.
With the plugin, you can easily see the top 10 countries that drive revenue to your WooCommerce store. You get different options to change the visualization of the graphs in the report.
Besides that, the plugin lets you sort the data based on different date ranges. For example, you can view your sales from last year, month, week, or choose a custom date range.
Pricing: Sales Report By Country for WooCommerce is a free WordPress plugin.
source wpbeginner.org