Website Builder vs. Web Hosting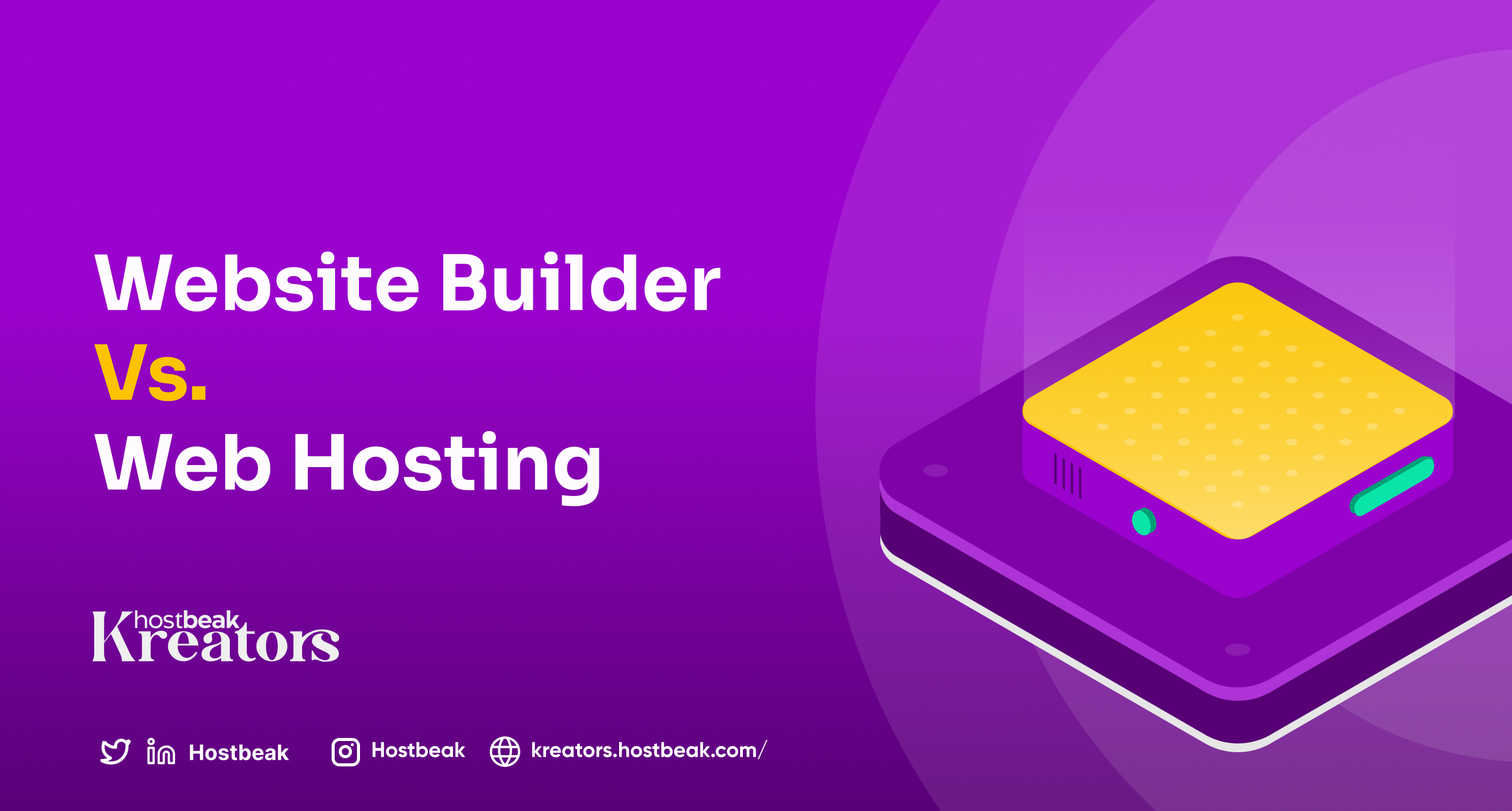 You'll probably come across references to both web hosting and site builders in your early investigation.

Both have a part to play in the creation of a new website, but what exactly do they imply? What's the difference between a website builder and web hosting? We'll go through the differences between the two and the most important information you'll need to get started.

What is Web Hosting?
Web hosting is the service of providing and maintaining the physical servers that all the files that make up a website live on.

All you really need to know about web hosting for your purposes is that it is required for every website. It's a must for keeping all of your website files and making them available to the rest of the world via the internet. However, if you're curious about what web hosting is all about, we'll go over it in further depth.
The majority of us think of websites in terms of their location on the internet. Each website has a unique online address, which consists of two parts: the domain name and the IP address.

That is exactly what web hosting companies do. They put money into the (expensive) actual servers that the internet relies on, as well as the real estate needed to house them. They engage specialists who know how to maintain them effectively, and they ensure that the conditions in the server warehouses are ideal for keeping the servers in good working order.

All of this takes place behind the scenes, so even the average website owner isn't aware of it. All you have to do now is choose and pay for a web hosting plan, and your web hosting provider will take care of the rest.

What Is a Website Builder?
A website builder is a piece of software that allows anyone to create a website without any prior experience.

Building a website in the early days of the internet necessitated knowing complex computer languages. It was a choice available only to experienced developers who had spent a significant amount of time learning how web design worked. Fortunately, building a website is now much easier.

Even novices should be able to figure out how to use website builders. They come with pre-designed website templates to choose from, so you won't have to start from scratch.

The website editors for different website builder solutions will differ in detail, but they are all meant to make it simple to swap out pieces and rearrange them to create something unique.

Most modern website builders, in particular, provide drag-and-drop capabilities, which allows you to move certain pieces of the page around by clicking on an object, dragging it to the desired location, and then releasing your mouse to drop it in a new location. And, for tasks like uploading new files and selecting new typefaces, users are greeted with menus that resemble those seen in more conventional computer programs like word and photo editors.

All of this adds up to a considerably easier website-building experience that is accessible to almost everyone. You can probably figure out how to use a website builder if you know how to use a computer.

Web Hosting vs. Website Builders: What's the Difference?
Here are some of the main differences between the two to be aware of.
Every website requires web hosting.
Web hosting is required if you want your website to be found on the internet. It's an important part of getting your website up and running. A website builder, on the other hand, is purely elective.

It will be the most convenient option for many new website owners, but it is only one of numerous options available. You could always hire a graphic designer or learn to code and start from scratch with a new website (if you have time to give to doing so). A website builder is the simplest way to create a new website, but it isn't the only way, therefore it's an extra cost for new website owners.

2. Web hosting refers to the location where your website is stored.
Web hosting services have nothing to do with the appearance of your website; instead, they are concerned with the location of the files that make up your website. It does have anything to do with things like how quickly your website loads and how well it works for users, but that's a different topic from how a website looks.

A web hosting plan ensures that the files on your website have enough space on a physical server. The rest is up to you and the other resources you put in for your website.

3. A website builder allows you to customize the appearance of your site.
The aesthetic of your website is what a website builder's functionality is all about. It allows you to control the color, graphics, and text on your website. When you use a website builder to create your website, you have complete control over what your visitors see visually.

You may also control the number of pages you generate, the structure of your site, and any menus you make for simpler site navigation with website builders. It's not just about how lovely a website looks; it's also about how to develop the best user experience possible. A decent online website builder can also assist you with this.

4. Using a website builder simplifies the process of creating a website.
The main reason to utilize a website builder instead of a graphic designer or trying to develop a website from scratch is the ease of usage. Website builders are made with the novice in mind.

The goal is to make it as easy as possible for someone to create a website the first time they use the website builder, without having to spend time learning how to use it. Depending on how sophisticated your website demands are, you may be able to design a website in minutes or hours with the correct website builder. An online website builder is usually the best option if you want to get a good-looking website up cheaply, economically, and rapidly.

4 Things to Keep in Mind When Choosing a Web Hosting Plan
Web hosting is a continuous requirement.
Web hosting isn't something you buy once and then forget about. Web hosting plans use a subscription model.. Most businesses will allow you to pay for a few years in advance.
If you know your website will be up for a long time and want to save money, you can pay now and not have to worry about it for a few of years. However, you can pay as you go on a monthly or yearly basis. It is more expensive, but it allows you to cancel if you change your mind.
Either way, make sure you budget for web hosting as an ongoing expense. It's a service you'll need to invest in for the full lifetime of your website.

2. Website speed is influenced by web hosting.
Website speed is directly influenced by the quality of your web hosting—and picking the correct web hosting plan for your website's demands. People not only want, but also expect, a quick load time.
People will abandon your website if it takes too long to load. It also degrades your search engine optimization (SEO), which is critical for potential visitors to locate you.

3. The uptime of your website is determined by your web host.
The proportion of time a web host assures your website's availability is known as uptime.
All web hosting providers have downtime from time to time when performing server maintenance, and some experience downtime when servers require repair or warehouses are subjected to severe weather.
However, ideally, you want a hosting provider who knows how to manage their servers such that the time your website is down is so brief that your visitors are unaware.

4. Many web hosting firms provide packages that include a variety of additional popular website requirements.
You'll undoubtedly need web hosting when launching a new website, but you'll also require a number of additional services and goods.
Every website, for example, requires a domain name. Additional services such as an SSL certificate for security, email accounts at your domain, and a website builder are likely to be desired.
Web hosting companies frequently bundle these services, which can save you money and make managing your payments and website subscriptions easier.

4 Things to Keep in Mind When Choosing a Website Builder
A template is the first step in creating a new website with a website builder.
When using a website builder, website templates save you time by allowing you to avoid starting from scratch.

A template that is relatively similar to the design you desire for your website can save you time because you won't have to make as many adjustments to make it match your vision. Your template will put together a basic structure for you, and all you have to do now is alter it.

When selecting a website builder, you should think over their template options. Do they offer a variety of templates from which to choose? Do they have any for the type of site you're putting together?

2. It's simple to use a drag-and-drop website editor.
You can move objects around the page with a drag-and-drop website editor by simply clicking on an item, moving your mouse to where you want it to go, and then letting go of the mouse to drop it into position.

It makes design a lot easier than if you had to use code to make adjustments. Plus, most modern website builders have straightforward menus that work similarly to those you're used to from other computer programs, allowing you to make modifications like adding images and altering colors.

3. Mobile compatibility is required.
Mobile usage has grown to the point where it has exceeded desktop usage a few years ago. That implies you should consider the mobile experience while selecting a website builder and constructing your site using it.

Consider whether a website builder has responsive templates, which automatically adjust to the size of a device's screen so that the website appears nice on any device. Also, see whether it allows you to preview how your website will seem on mobile as you work on it.

4. You'll still need a domain and site hosting.
Purchasing a website builder will not meet all of your needs when it comes to creating a new website. A domain name and hosting are required for every website. Unless your website builder is part of a bundle that includes both of these items, you'll have to pay for them separately.

A simple shared web hosting service and domain name won't break the bank for most new websites. And, if you go with a company like HostGator, you can have all three in one bundle, saving you time and money.