Websites vs. Domains vs. Hosting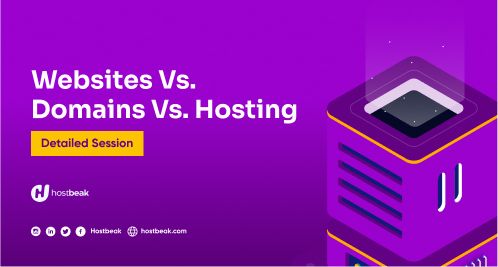 What is a domain name?

A domain name is a website's address. It's the web address that a visitor types into their browser. It also allows us to explore the internet without having to memorize the website's IP address.
When a site visitor types your domain name into a browser, it is converted to an IP address for your server. The server provides your site files to that person, which their browser interprets as a normal web page.

There are two parts to a domain name: the top-level domain (TLD) and the second-level domain (SLD) (SLD). For example, the SLD for the domain "hostbeak.com" is "hostbeak," and the TLD is ".com."

Example of TLDs:
.com
.net
.org
.ng
.com.ng
.biz
.com.ng
.xyz
.co
.me
.blog
What is the procedure for obtaining a domain name?

You must first register a domain name with a Domain Registrar which you may do at https://hostbeak.com/cart.php?a=add&domain=register#. You first have to search to see if that domain name is available.

What to Keep in Mind When Picking a Domain Name for Your Website:

Examine the reason for your website's existence. Do you want to build a website for your company? Is this intended for personal use only? Or would you be designing a website for a non-profit?
The domain name should be short and easy to remember.
Check to see if the domain name has not yet been registered.
Don't buy trademarked domain names or domain names that are identical to current sites.
Numbers should not be used in domain names.

How long will I be able to keep the domain name?

You can register a domain name for a minimum of 12 months when it comes to domain name registration. There is no such thing as permanent domain ownership. You can choose to register the domain name for a number of years. When the domain name's term expires, you'll need to renew it. Through your User Dashboard , you will be able to manage the domain you purchased from HostBeak.

What is web hosting?

Web hosting is a technology that allows your website to be publicly or privately accessible online. The web-hosting or server is similar to the office space you hire for your company. It's nothing more than space itself. It does not include furnishings for your products, such as shelving, and it does not include a website for you to sell your products.

Fortunately, in the world of web hosting, it's simple to fill the space allowed by your host by using the Softaculous icon in your cPanel to install a variety of framework apps.

You won't have a location to store your files if you don't use hosting services, therefore your domain will become like a disconnected phone number in the phone book, and your site files will be lost. Your website will not have an internet presence unless it is hosted.

What is a website?

A website is a collection of pages that are all tied to a specific domain. It is made up of texts, media, links, and other visual content, and it allows the audience to search for information by navigating around it. Google.com, Yahoo.com, and Hostbeak.com are the most popular landing pages.
The World Wide Web (www) is made up of these pages. A visitor to a website must type the domain name into the address bar of their browser, and the browser will interpret and show the matching primary web page, or homepage.

Additional Information
The Site Files include information about your products and services that visitors and potential consumers will view while visiting your website. The site files are much like any other file you've used before, such as a.jpg image or an.mp3 audio file. Website files, on the other hand, can be.php or.html files, which are PHP scripts or HTMLhtml pages, respectively.
The web-hosting server can read these files, which describe how the webpage appears or instruct the server to perform a series of calculations. These computations include things like determining which blog item or forum to return to the viewer.