Managing a WordPress site: How does it work?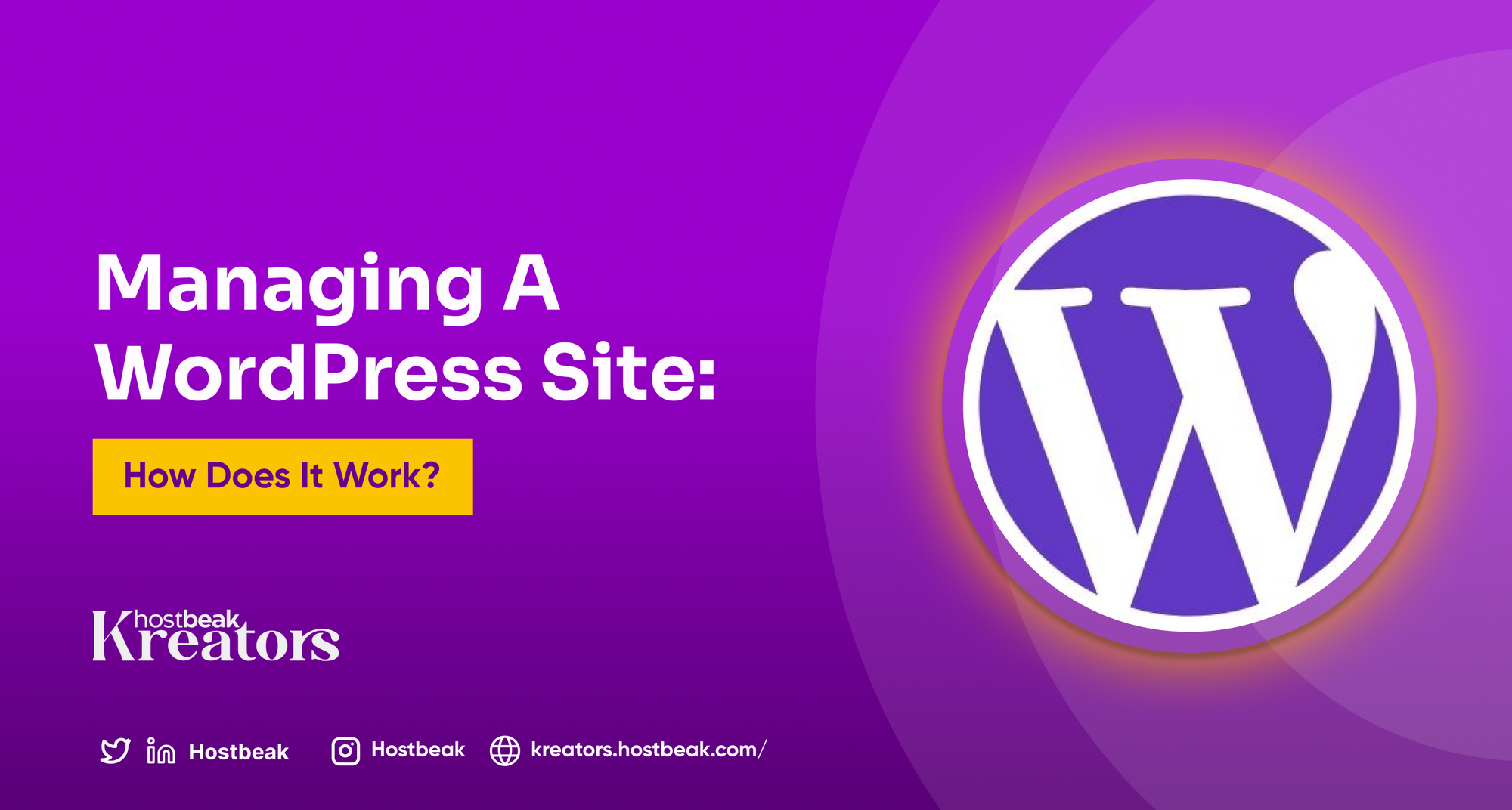 In order for your website to perform at its best, it needs to be managed on an ongoing basis, especially in the case of a WordPress site. Although managing your WordPress site may seem like a daunting task, once you have the expertise on how to manage a WordPress site, the entire process of owning one becomes much easier.
Take Back Ups
A website backup is extremely crucial. Why? In case of any website crash or host server compromise, you can easily get your website online by retrieving it from the saved backup.  It is therefore imperative that you take weekly backups if not days of your website database and its file on any external storage system such as Google Drive, DropBox, external hard drive, etc. Also, make sure that you delete any old backups, so you only have the most latest version with you.
Run Security Reports
WordPress is one of the most vulnerable platforms for malware attacks and hacks. With this said, it is important that you have the most secure protocols in place to protect your WordPress website. To check your security levels, you can use services like Sucuri that provide you with security reports on a weekly or monthly basis by running security diagnostics on your WordPress website.
Optimize Images and Videos
Adding pictures and videos makes a website more attractive as well as interactive. However, there is a downside to this. Overly large images or videos can cause a WordPress website's page to load slower. Moreover, loading the videos from the host server can also cause a slow speed. Therefore, it is important to do a monthly review of all the images and videos on your WordPress website and use the standard optimized size for it given by the WordPress platform. This will increase the page load speed and clear up your server space.
Keep Themes and Plugins Updated
WordPress is actually based on themes and plugins which is what makes it easier to use. But these themes and plugins are continuously updated. This means that it is your job to keep checking for the updates, and then update it to the latest available version. This can be done monthly, or even semi-annually.
In addition, you also need to keep a check on any unused themes and plugins and remove them as they can cause the website to slow down as well as raise security issues making your website vulnerable to malware attacks and hacks.
Manage the Comments
When the comments section is active, you are bound to receive lots of them including spam comments. While approving them or even replying to them, you check for spam comments and if by chance you miss any, you can then take your time to delete it as it can take up a lot of server space as well as cause the website to load slowly.
Monitor your Website Uptime/Downtime
Downtime in your WordPress website can lead to a negative image of your brand causing your visitors to move to a different vendor site, as a result, hurting your sales conversions. You will have to check almost daily which can admittedly become a tedious task but will need to be done if you want to keep your visitors hooked to your website and brand.
Keep the Database Optimized
A WordPress database over time can potentially become cluttered with all the drafts, spam comments, revisions, and so on. In order to have your website performing at an optimal level, it is advised to de-clutter the database once every 3 months or semi-annually. This will also help to keep your database optimized for any updates that are required to keep your WordPress website running smoothly.
Do Cross Browser Testing
With WordPress as well as browsers such as Chrome, IE, and even mobiles going through periodic updates, there is a fair chance that your website's layout and format might be affected. Plus, given the usage of mobile devices, users now browse websites using it therefore, having a perfect layout not just for browsers but for the mobile view is of significant importance when it comes to providing an exceptional user experience. You can undertake this activity every 3 months or semi-annually by running cross-browser tests and fixing any issues that may be there.
Manage Your Web Content
Keep reviewing your older pages so that you can update the contents. Your trash pages should be empty; draft pages should be reviewed. No empty Widgets areas should be kept, fill them if possible.
Keep the Forms Updated
Once a month, make a habit of going through all the links in your website that connect to the Information Forms or Contact Us forms. It is necessary because when sometimes WordPress updates itself, there is a chance that some forms might stop working and you might lose any sales opportunity.