What You Should Know Before Getting a Hosting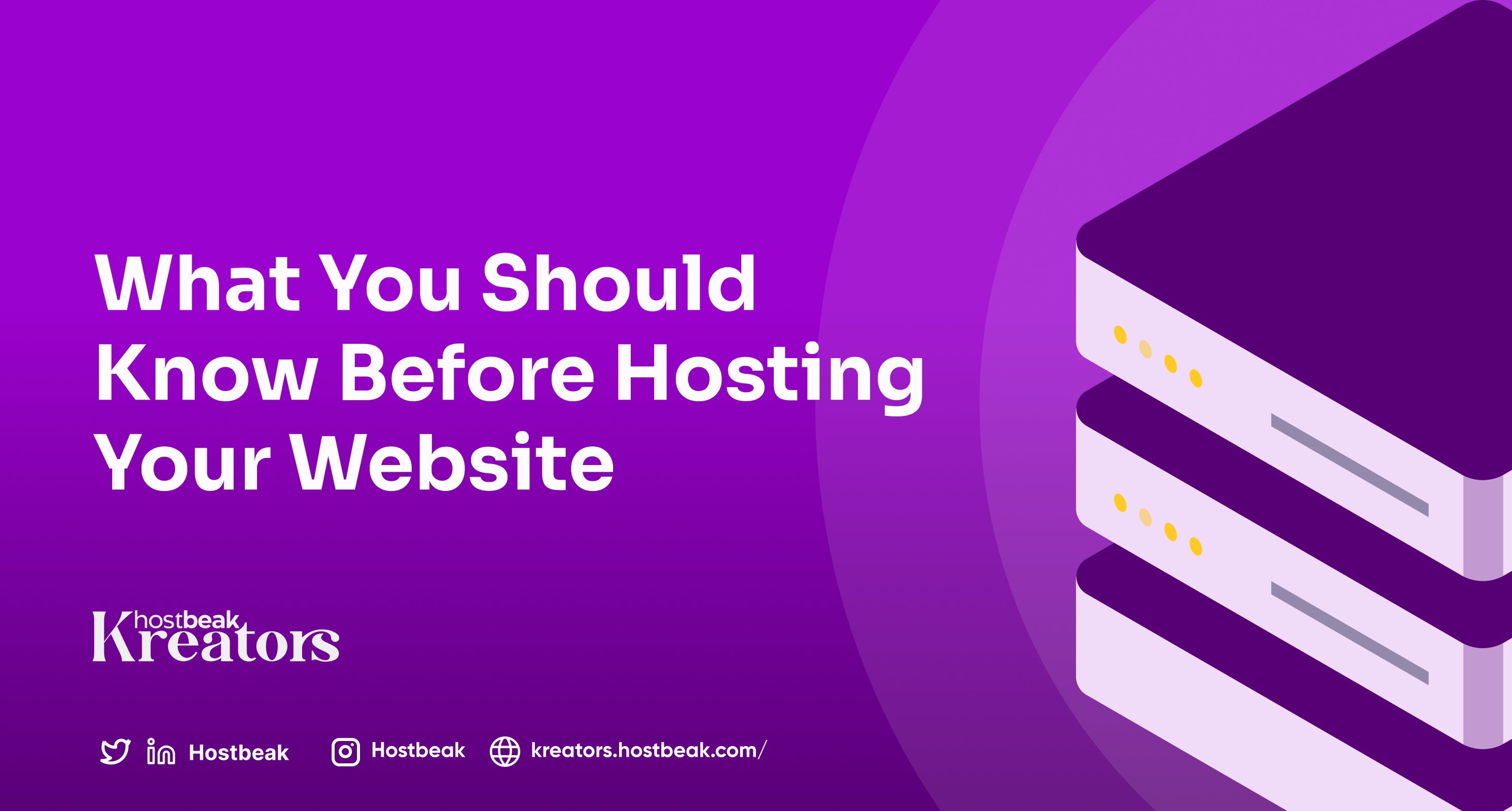 Introduction
In today's time, the internet plays a major role in the day-to-day activities of individuals. One has to grow with the system to keep up with their competition. The best way to grow as a business is to put your business online. One of the best ways to put your business online is to have a website. In order to publish your website online, your business website requires a web hosting service.
What is web hosting?
Web hosting is a service that allows organizations and individuals to post a website or web page onto the Internet. A web host, or web hosting service provider, is a business that provides the technologies and services needed for the website or webpage to be viewed on the Internet. Websites are hosted or stored, on special computers called servers. Web hosting will enable internet users to view your website. All they will need to do is to type your website address or domain into their browser and they will get connected to you.
How Does Web Hosting Work?
When you want to start a business in the real world, you need a physical location to set up, store, and sell your products. The same rules apply in the digital world when setting up a website. When you set up an online business, you have a series of files, images, and HTML code that make up your website. These files take up space and need a place to live. Without an online home, your files would just sit on your computer and no one would ever see them. A hosting provider will provide a place on a webserver to store all of your files and are responsible for delivering the files of your website as soon as a browser makes a request by typing in your domain name. When you pay for hosting services, you are simply renting storage space on the internet — just like you would rent a physical store for your business.
What is a Domain Name?
A domain name is your company's address on the internet. Think of it this way: if you are renting space at a physical location for your business, you give customers your street address so they can find you. If you are renting space on the internet, you give customers your domain name. Whenever someone types in your domain name, it is converted into an IP address. The hosting company then locates all the files connected to your IP address and returns all of the pictures, videos, and words that make up your website. Just like every street address is unique, so is every domain name. Whenever you start a new website, you get the opportunity to choose a name that perfectly reflects your brand.
Why You Should Choose Hostbeak as Your Hosting Provider:
24/7 Expert Support
Proactively monitors for and alerts you about any malware that is detected on your website.
Fast & Reliable
If a scan finds anything, SiteLock will safely remove any known malware automatically.
Super Easy to Use
Automatically check your applications to ensure they are up-to-date and secured against known vulnerabilities.
Malware Check
Daily scans help detect malware early before search engines have a chance to find it and blacklist your site.
Secure Servers
The TrueShield™ Web Application Firewall protects your website against hackers and attacks.
Website Ready instantly
Get domain and hosting and use immediately without having to wait, order for ready-made websites for your business, and see them live in hours.
High Performance
The instant and fully automated setup gives you protection immediately without anything to install.
Supports Popular Softwares
1-Click install for popular software such as WordPress, Opencart, Magento, Joomla, Drupal, etc.
You can check out our article on how to get hosting on Hostbeak here.

In conclusion, web hosting is important for companies that would like to make their information available to their clients at all times. It is important for companies to host their websites to enable their clients and prospective clients to find out more about their services and their company. It will also ensure they get any information they desire or need from the company in time and without hassle.