B2B email marketing rules you need to know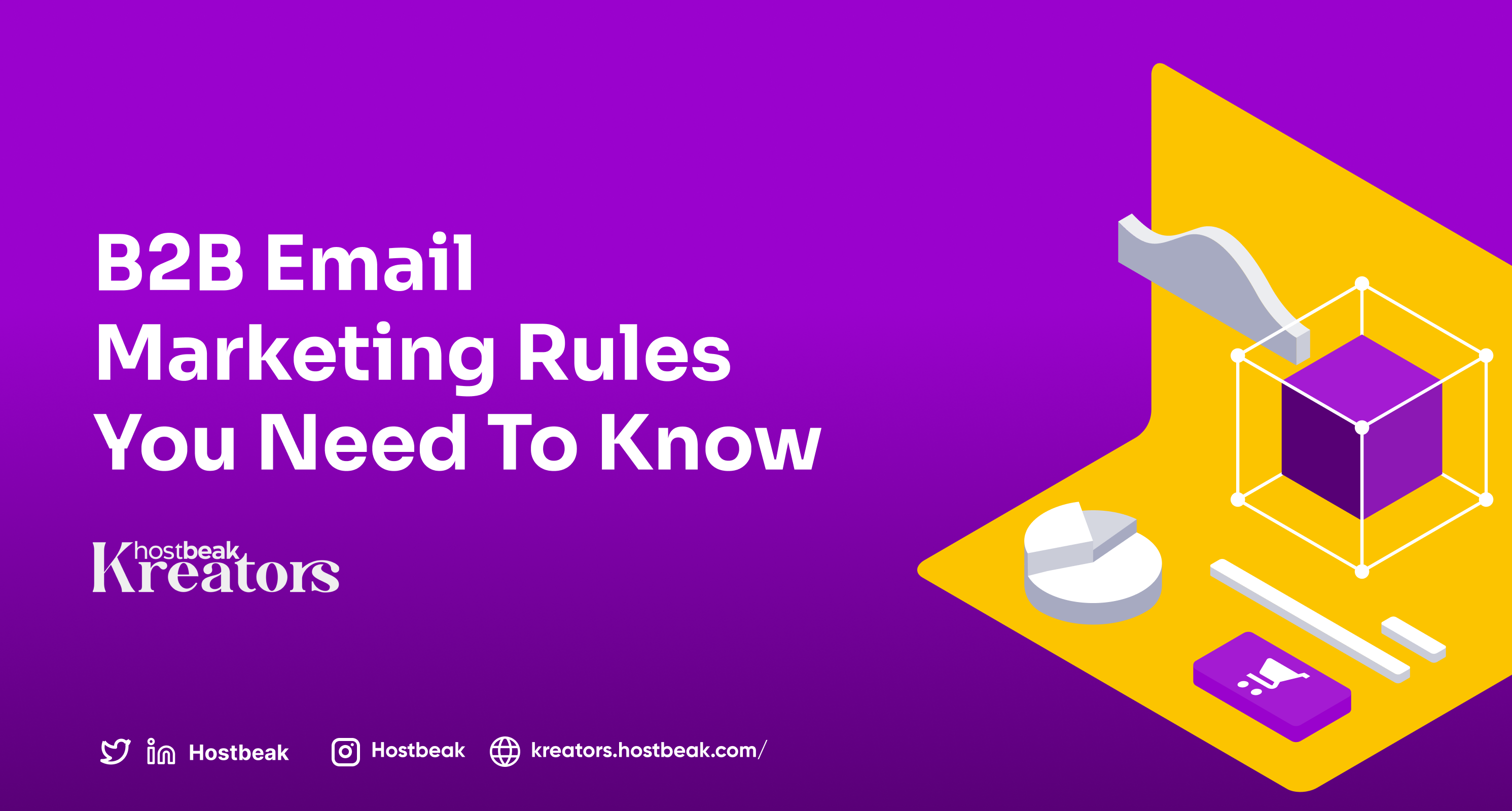 There are lots of email marketing tips or email marketing best practices that work for B2B just as well as B2C marketing plans. And we definitely encourage you to try out those techniques.
But before you start experimenting with strategies that might work for your business, you need to start following the rules that will improve your B2B email marketing. Here are a few you need to know.
1. Segment your audience

I'm sure all of your emails are great. But not every email is going to work for every contact in your database. That's why you absolutely need to segment your audience for your B2B email marketing.
When you segment your audience, you can get more specific about your copywriting and your offer. For instance, if you're sending only to your contacts in the Northeast US, you can reference the start of summer in July. If you're sending only to you're sending only to contacts who previously made a purchase, you can offer a discount code to re-engage them.
And those are just two quick examples of endless possibilities to personalize your B2B emails and make them more appealing to your audience.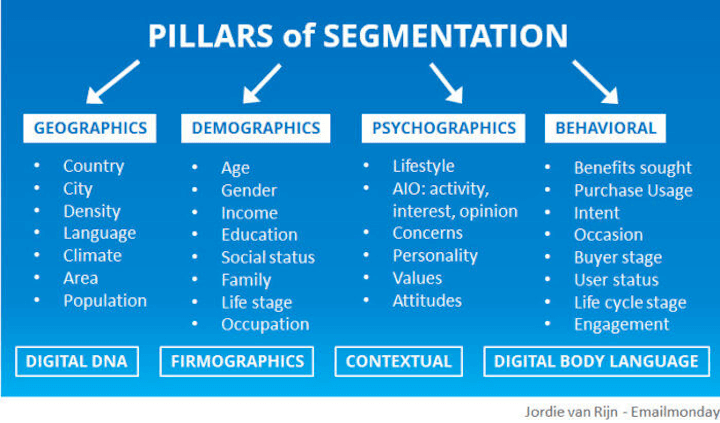 And making your emails more appealing to your audience can bring in real results for your business. In fact, marketers who segment their email marketing campaigns report a 760% increase in revenue.
That makes segmenting your audience a rule worth following.
2. Send a newsletter

A newsletter is a great way to consistently distribute your blog posts, webinars, or other content to your database. It's also a great way to engage with your contacts. The cadence can vary depending on your business, but whether it's weekly, monthly, or quarterly, it's consistent. That keeps your brand name in each contact's inbox, and as long as you're providing high-quality, useful content, that'll build trust.
That's why 31% of B2B marketers consider email newsletters the best way to nurture their leads.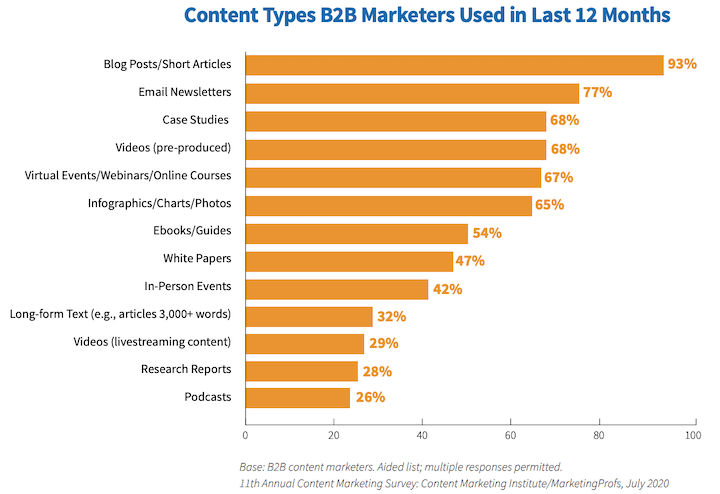 It's no surprise that email newsletters are the second most common type of content that B2B marketers used in the last year.
There are lots of different ways to format your newsletter. If your marketing creates lots of content, you can include recent podcast episodes, videos, and blog posts. If your industry has lots of news, you can round these up in your newsletter, and you can even write a long-form email intro commenting on the most important topics. The most important thing is to figure out what works for your brand and what's a reasonable amount of work to take one.
4. Stick to your brand

Your B2B email marketing should be clearly coming from your brand. That's the best way to keep your emails consistent and build brand recognition with your audience.
Take this example from Squarespace.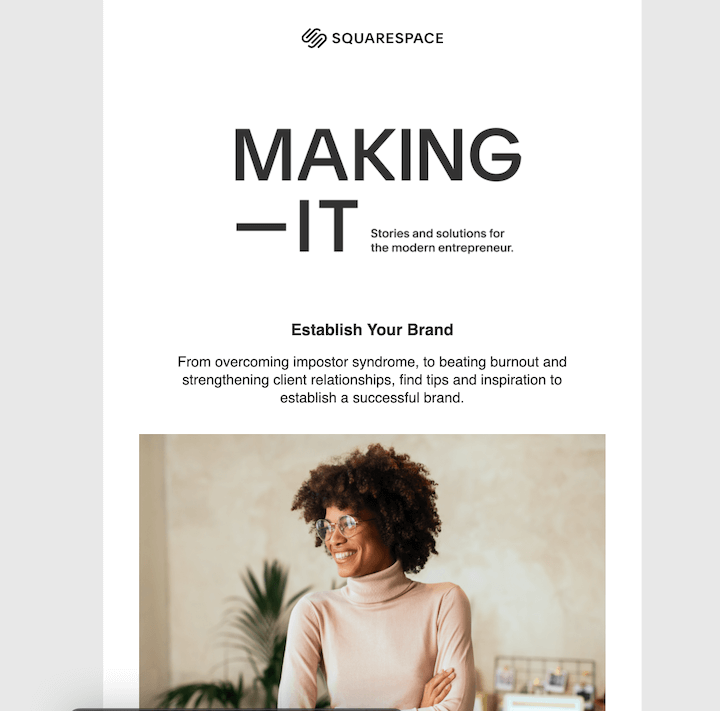 The muted background, the coordinating filter on the photo, and the soft font color—all of these fit with Squarespace's cool, neutral brand palette. The copy fits well, too. The website builder positions its platform as a tool for entrepreneurs and artists to grow their brand and their business.
Now, this doesn't mean that you always have to use highly stylized formats in your brand colors—you can go ahead and send a plain text email in regular old automatic font colors, too.
But it does mean that your email copy and your email content should be recognizably on-brand every time.
7. Keep testing

All of these B2B email marketing rules help you send better emails—with more personalization, more regularity, or stronger copy. But in order to keep improving your emails, you need to keep testing to find out what works for your audience.
The best way to do this is to run regular A/B tests. An A/B test is a common exercise where you change one variable in an email send and see which version performs better.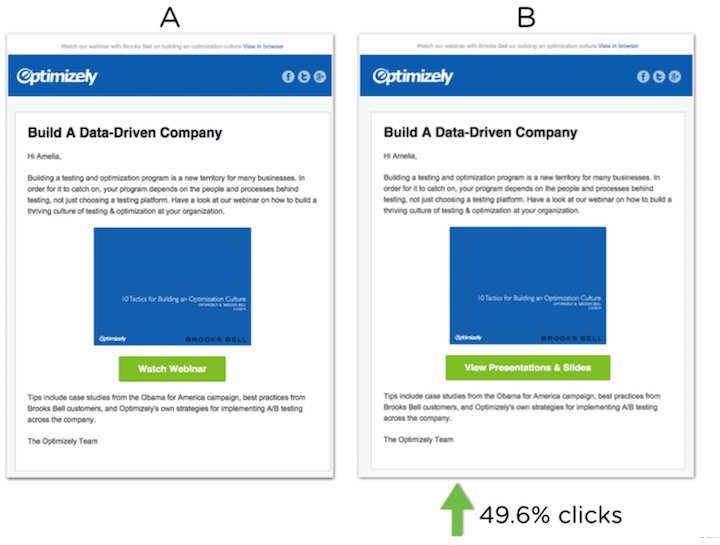 Here are some common variables to test:
Subject lines
Preview text
CTAs
Email design
Offer
Send day
Send time
Because these are common, we'd recommend starting with these. Once you get to know your audience better, you can get even more specific with your tests—like to find out whether subject lines with emojis perform better or which color CTA button gets more clicks. The more you know about what your audience is looking for in their emails, the more you can tailor your marketing and improve your metrics.