10 types of WordPress sites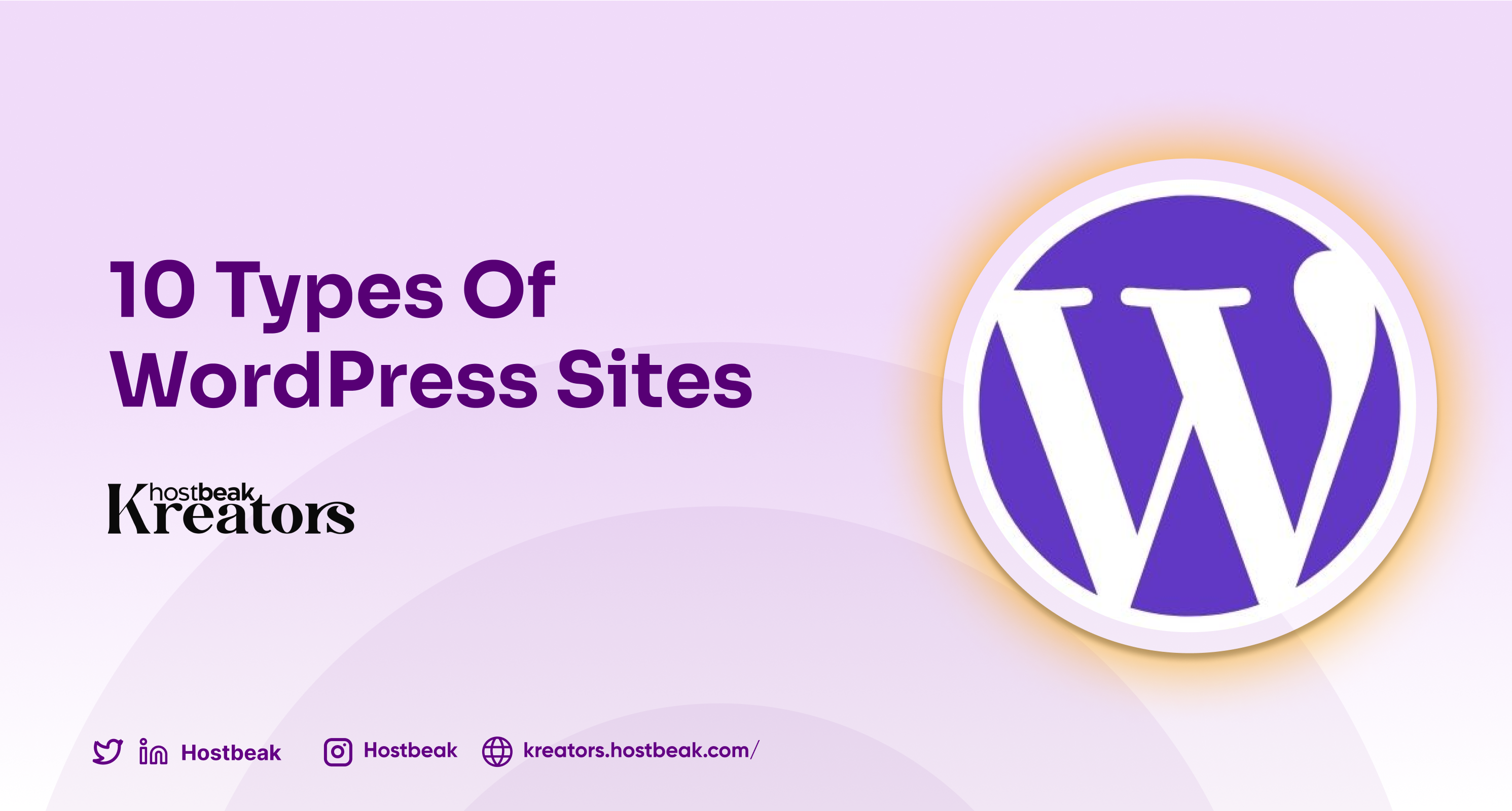 Getting Started With WordPress
WordPress powers more than 42% of all websites on the internet, which makes it the most popular website builder on the market.
There are two types of WordPress websites. First, there is WordPress.com which is a web hosting company. Then, there is WordPress.org also known as self-hosted WordPress. To learn more, see our guide on the difference between WordPress.com vs WordPress.org.
1. Blog or Personal Website
WordPress started out as a simple blogging tool and quickly evolved into a powerful content management system. During the last 18 years, those blogging and personal website components didn't disappear.
They have become more polished, sophisticated, and powerful. WordPress is still the best blogging platform in the world used by small websites as well as large publications.
Due to its flexibility, WordPress is equally good for a personal blog as well as multi-author blogs. It allows you to create content-rich websites that can be easily grown into a business.
For more details, see our guide on how to start a WordPress blog with step-by-step instructions for a beginner blogger.
2. Business Website
WordPress is the easiest way to build a professional-looking business website. It is so powerful that many big name brands use WordPress to power their websites.
Business owners love its ease of use and flexibility. By using WordPress plugins, you can add social media integrations, optimize your site for search engines, track marketing data, and add any other feature you need.
You can choose from thousands of themes and easily customize the design, all without hiring a web designer.
To get started, see our complete guide on how to make a small business website using WordPress.
3. e-commerce Website / Online Store
WordPress with WooCommerce is the world's most popular eCommerce platform. It supports top payment gateways like PayPal and Stripe so you can easily accept payments online.
You can use WooCommerce to sell both physical and digital products. It allows you to easily add any type of product to your store, and has tools to manage inventory, orders, shipping, taxes, and more.
For step by step instructions, you can check out our tutorial on how to start an online store.
Apart from WooCommerce, there are other eCommerce plugins for WordPress like Easy Digital Downloads and MemberPress that can be used to sell digital goods and subscriptions.
4. Membership Website
Membership websites sell subscriptions. This allows you to put some of your content behind a paywall, sell pay-per-view content, or run an online community.
MemberPress is the best WordPress membership plugin. It comes with powerful access control, subscription management, user management, and integrations with third-party tools and payment gateways.
For more details, take a look at our step-by-step tutorial on how to create a membership website.
5. Online Courses
WordPress can be used to easily sell courses and build an online learning community.
MemberPress Courses is the best WordPress LMS platform to sell online courses from your website. It comes with an easy to use interface to create courses, control access, and sell subscriptions.
To learn more, check out our tutorial on how to make online courses website with WordPress.
6. Online Marketplace Website
Don't have any products to sell? How about creating a marketplace for other vendors to sell their products online?
WordPress has some incredible plugins that turn your website into an online marketplace. Third-party sellers can then list their own products on your website, and you earn a fee on each order.
For details, see our tutorial on how to create an online marketplace in WordPress.
7. Podcast Website
WordPress and podcasting go hand in hand. Most popular podcasters on the web are using WordPress for their podcasting websites.
There are several excellent podcasting themes and plugins for WordPress which make the whole process way easier. Plus, you can integrate any podcast hosting service to seamlessly serve files from your own website.
For more on this topic, check out our step by step guide on how to start a podcast with WordPress.
8. Dropshipping Website
Dropshipping is a type of eCommerce store that doesn't keep the products in stock. Instead, when a customer purchases a product, the store owner places the order with a third-party vendor who ships the item directly to the customer.
WordPress has some excellent dropshipping plugins that help you easily add third-party products to your website.
For more on this topic, take a look how to make a dropshipping website with step by step instructions.
9. Affiliate Website
Want to make a commission by referring your users to products and services?
WordPress is used by millions of marketers to create highly successful affiliate websites. It has a ton of affiliate marketing tools and plugins that will help you boost your earnings.
You can sign up for individual affiliate programs, or you could create an Amazon affiliate store that relies on just one giant affiliate network.
For more details, see our complete affiliate marketing guide for beginners.
10. Coupons Website
Want to earn affiliate commissions from thousands of websites offering special discounts on their products and services? Then you can use WordPress to make a coupons site.
With the right plugins, you can easily add coupons to your site. You can control the expiration dates and other details, and your users can even rate and vote for their favorite coupons.